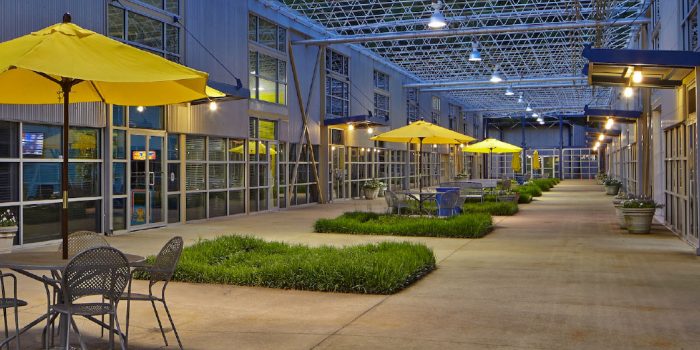 1425 Ellsworth Industrial Blvd NW, Atlanta, GA 30318
In January 2008, an EpiCity sponsored partnership purchased The Lumberyard Lofts, a 68,000 RSF modern, attractive loft office complex made up of 17 units and suites. Originally a single building developed for milling lumber, this property was creatively divided into three separate buildings in 2000.  At the time of acquisition, 15% of the property had been vacant since the renovation. With extensive knowledge of the area, EpiCity knew the potential was great.   
Centered around an open courtyard and featuring an industrial loft atmosphere, this facility was a unique find in an area of booming development.  Situated beside the Atlanta BeltLine and within a mile of the Bellwood Quarry, the area didn't offer much office space. After the acquisition, EpiCity implemented a strategy to expand existing tenants while also attracting new ones, and the building quickly reached full occupancy with a wide variety of technical and creative businesses. The property boomed as the Westside blossomed. It is one of Atlanta's finest examples of successful adaptive reuse. 
The Lumberyard Lofts, an award-winning project, fueled an appreciation beyond reasonable expectations. The property offered a number of strategic redevelopment opportunities for the future, including the eventual sale of individual units as office condominiums.  In May 2018, EpiCity received a favorable offer and exited the property with a 22% IRR.