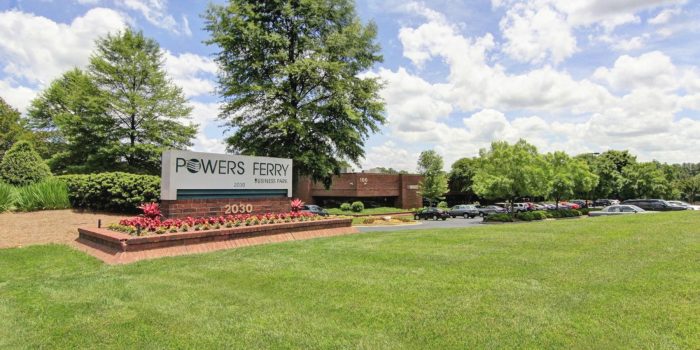 Powers Ferry Business Park
2030 Powers Ferry Road Southeast, Atlanta, GA 30339
Powers Ferry Business Park was previously under institutional ownership and EpiCity felt it had significant untapped potential. Acquired in a 1031 exchange, the Powers Ferry Business Park is in an ideal location, with easy access to I-75 and I-285 with close proximity to housing, banks, shopping, and restaurants. EpiCity immediately went to work improving the property inside and out.
With a focus on providing first class services, a variety of upgrades were made, including a state-of-the-art conference and training center, 50-seat classroom venue, executive conference room, high-speed digital cable access, and turnkey design and space planning services. EpiCity maintained keen attention to detail by making improvements to the landscaping and proactively performing maintenance work around the property. The five buildings in this office and flex space includes more than 260,000 RSF, with spaces ranges from 900 RSF to 36,000 RSF. The complex sits on over 26 acres, and its outdoor amenities include edible landscaping with fruit trees and vegetable gardens.
EpiCity's strong leasing and marketing strategy quickly filled the vacant space, and its superior customer service has kept tenants renewing leases and calling Powers Ferry home for years. A great location made up of attractive glass and brick buildings, with drive-in doors, wide truck courts, and an abundance of amenities, Powers Ferry Business Park is filled with vibrant businesses. Its proximity to Home Depot headquarters and Truist Park has attracted big name brands such as Weber, American Standard, and Monster Energy Drinks. At any given time, Powers Ferry Business Park now largely operates at full capacity.
For more information, visit www.PowersFerryBusinessPark.