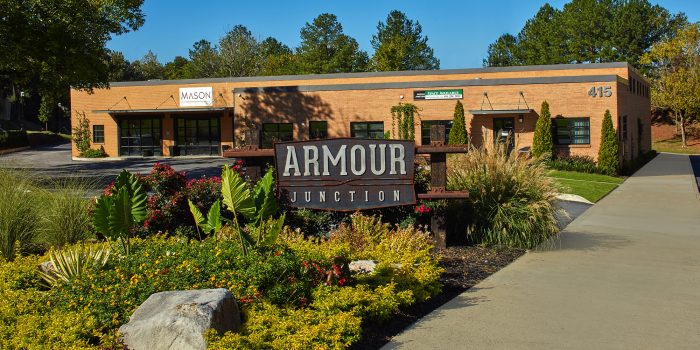 1386 Mayson Street Northeast, Atlanta, GA 30324
At the nexus of Plasters Avenue and Mayson Street sat a collection of five buildings that were ripe for restoration. These buildings are in an area that is now called the Sweetwater Design District, and part of the oldest community in Atlanta, which was first settled almost 200 years ago. EpiCity saw the potential in this five-building collection of office/industrial product, and along with a nearby property on Plasters Avenue, purchased and completely renovated these old buildings into popular loft office, flex commercial, and retail space. 
EpiCity got to work quickly on this asset and turned Armour Junction into a prized example of adaptive reuse and a sustainable community with over 70,000 RSF. The renovated spaces provide a wonderful indoor and outdoor environment for its tenants who love being tucked away in this neighborhood, yet close enough to see the City of Atlanta.
Due to an aggressive marketing strategy and the growing popularity of loft office space in Atlanta, the property was 70% leased up before construction was completed and 100% leased up soon after. Lead flow was consistent throughout the lease up period and demand continues to be strong to this day. Armour Junction remains a highly desirable Class A loft office complex in Atlanta. The space has become home to boutique firms, mid-sized companies, and even a neighborhood bar and restaurant.
For more information, visit www.ArmourJunction.com.